Our report, The Future of Jobs in the Era of AI, produced in partnership with Boston Consulting Group, provides an in-depth analysis of the US, Germany, and Australian labour markets. The report looks at how emerging technologies will disrupt workforce supply and demand over the next ten years, exploring this disruption through detailed scenarios which take into consideration varying levels of impacts from COVID-19 on GDP growth.
Download our full report, The Future of Jobs in the Era of AI
Equip your workforce with the right mix of skills for the roles of the future
We found that while there will be both job loss and job creation, the impacts of emerging technologies and the pandemic are far more nuanced. The fields which will see an increased demand for skilled workers and in which new jobs will be created won't simply mitigate the impacts of job loss in other fields.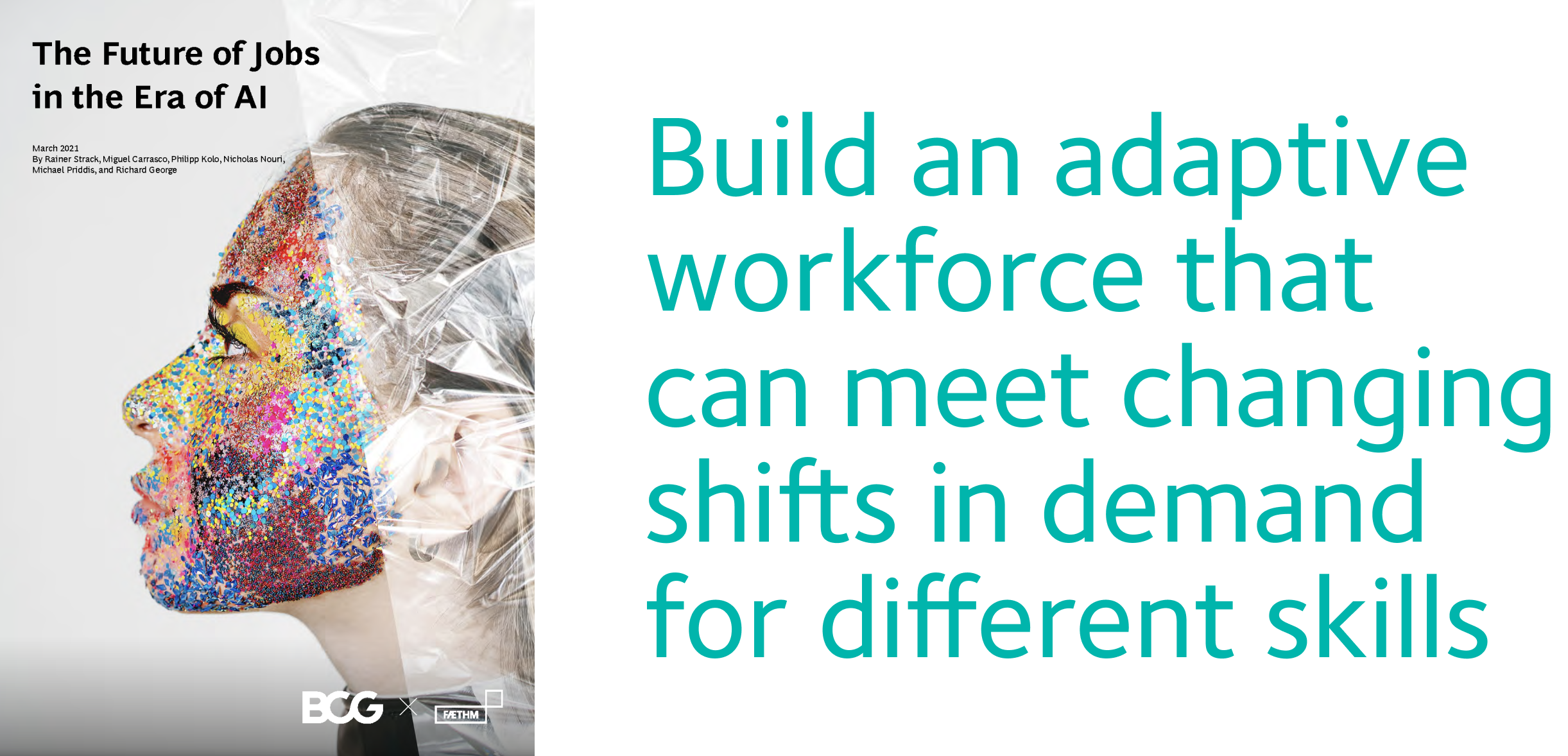 All three countries will see a surplus of workers in jobs with manual, repetitive skills that can easily be replicated by technology, such as administration, retail, and production work. On the flip side, innate human attributes such as empathy, creativity, and emotional intelligence cannot be replicated by technology and as a result, will become more valuable. By 2030, the demand for workers in fields that require these attributes, such as health care, education, and social services, will be high. 
What's crystal clear is that there will be an enormous demand for workers with technological and soft skills. Our analysis shows that by 2030, jobs in IT, technology, and mathematics will see a severe shortage of skilled workers in Germany, the US, and Australia.
The solution to these challenges is to begin preparing your workforce now with the right mix of skills for the digital age. By making investments in your workforce now, you'll ensure your competitive advantage with the right talent in the right place at the right time.
Download our full report, The Future of Jobs in the Era of AI

Our report looks at the impact of the COVID-19 pandemic on GDP and the pace of technology adoption across multiple scenarios for Germany, the US and Australia. This provides a clear view of the variations possible in workforce surpluses and shortfalls. Through a deeper dive into the analysis, we can identify the job families with the highest absolute surpluses and shortfalls in 2030 for the baseline projection.
To view a larger version of these charts, right click the image to open in a new browser tab.